Tommy Marren- Director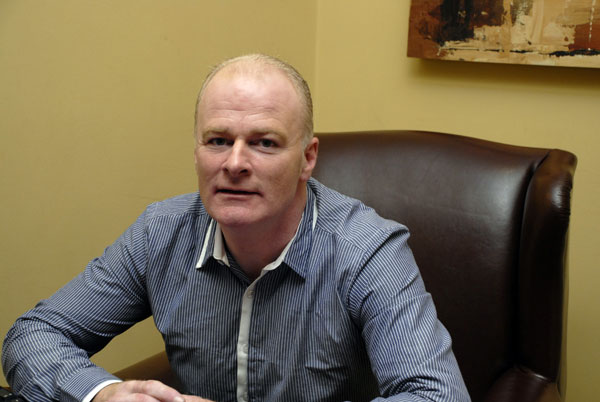 Tommy Marren hails from the parish of Tourlestrane in Co. Sligo and is one of the best-known voices on local radio in Ireland.
He presents Midwest Radio's flagship current affairs programme Monday to Friday from 9.00 to 11.00am and the programme currently commands the highest listenership of any station in the west of Ireland.
His broadcasting career started in 1989 when he anchored Midwest Radio's weekend sports programmes and the following year he became station manager of Northwest Radio, which covered the Sligo, North Leitrim and South Donegal region. Tommy spent 12 years at the helm in Northwest Radio and steered the station to the PPI Station of the Year Award in 2004.
His broadcasting talents have brought him many national awards and this year he was shortlisted for the prestigious PPI Speech Broadcaster of the Year. He is now Midwest Radio's Station Manager and is also a regular contributor to RTE Radio Sport.
His broadcasting achievements have been mirrored in his interest of drama and the arts, and his acting career started with his local group in South Sligo (Banada Drama Group) where he starred in numerous productions that included The Year of the Hiker and See How they Run.
He then joined the renowned Phoenix Players in Tubbercurry where he played a leading role as Judas Iscariot in the passion play The Word and the Flesh. He was also part of the Charlestown Drama Group for a number of years and won a best supporting Actor Award at the Scarriff Drama Festival for his role as Michael in Tom Murphy's renowned play Conversations on A Homecoming.
His first stab at writing plays was also in the mid 1990's when he wrote a number of short plays and pantomimes including Band of Gold where he co-starred with broadcaster John Duggan, Do You Believe in Toothfairies where he acted along side International singing star Sandy Kelly and his pantos included Cindy Eile and Pake and the Beanstalk.
In 2008 he wrote and directed his first 3-act play entitled The Banshee of Crokey Hill which proved to be a huge hit both in Ireland and further afield. The play was performed in all four corners of Ireland and in 2010 it scooped five awards at the Derry City Drama Festival with Tommy picking up the best director and best actor awards. The play was also performed in Birmingham, Manchester, Boston, New York and Chicago. To date the play has raised in excess of €100,000 for various charities.
His collaboration with Terry Reilly in co-writing the stage version of On a Wing and A Prayer has been on of Tommy's biggest challenges to date. It has also given Tommy the opportunity to dabble with another ambition – namely song-writing – and he has written one song for this production entitled Always be Right By Your Side as well as co-writing We've Got To Get to the Pope , I Do have a Plan and A Man of The People with Terry Reilly.
As well as co-writing the script Tommy is also responsible for directing the show which has brought its own trials and tribulations as the role of director involves ensuring that everything from lighting to sound, costumes to set design and general direction of this exciting production will be a lasting testament to Monsignor James Horan. On top of all that Tommy is also the narrator of the production so you can take it that he has his hands full tonight!
"Although I never met Monsignor Horan the last few months have been a rollercoaster and I really hope we've captured the man and his mission in life accurately. In writing the production we've tailored the script so that people who never really knew what sort of character he was will realise just how significant and forward-thinking the man actual was. Having Terry Reilly beside me has been invaluable in making sure that we've portrayed his life as accurately as possible and allowing for some artistic licence I really think we've put together a script that is both special and unique," says Tommy.