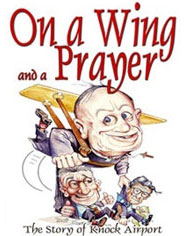 We live in a small world where friends make things possible
In creating a musical such as this one needs friends, and for someone who cannot sing, admits to not having a note in one's head, and had never written a song before, the task was … er …challenging to say the least!
One thing we Irish are good at, however, is networking: when in doubt, see who's about that you know knows things like putting a song together!!  It is my good fortune to know a celebrated songwriter in Nashville, Tennessee, who just happens to have Mayo blood in his veins.
Talking to him one day about the emerging musical On A Wing and a Prayer, my friend Rory Bourke said if there was anything he could do just let him know. I had helped him trace his Ballina roots some time earlier.
Rory's great grandfather, John Bourke was born in about 1836, in the parish of Kilmoremoy (Ballina). He left on a famine ship in 1847 en route to Montreal, Canada, made his way to Olean, New York, and around 1862 met and married Mary Dillon who was from Bantry, Co. Cork.  John Bourke passed away in 1872, and, after a few years, the Bourkes migrated to Lima, Ohio, to work in the oil industry.
During a career of more than thirty years, Rory Bourke's songs have been recorded by Dolly Parton, Cher, Bonnie Raitt, Elvis Presley, Tom Jones, The Oak Ridge Boys, Ronnie Millsap, Julio Iglesias, and many others.  He was inducted into the Nashville Songwriters Hall of Fame in 1989 and has been named Ascap Writer of the Year three times:  1976, 1979, and 1983.  He is a four-time Grammy nominee and the recipient of two CMA triple play awards. He served on the Board of Directors of the Nashville Songwriters Foundation for many years.
Rory arrived in Nashville in 1969 as head of Sales and Promotion for Mercury Records.  He signed with Chappell Music as a songwriter in 1971 and later with Polygram Music, and then with his own publishing company, Rory Bourke Music Company.  Hit songs include Jo Dee Messina ("Bye Bye") and Collin Raye ("Little Red Rodeo").  He is writer and publisher of the Wilkinson song, "Fly (The Angel Song), "Eyes of a Woman," by Tim McGraw, and "Man with a Memory," title song of the Joe Nichol's gold album.   "Bye Bye" was named Ascap's Most Performed Song of the year in 1999. And of course he wrote the enduring hit favourite also, The Most Beautiful Girl. You can link up with his website from these pages. – www.RoryBourke.com His latest single 'I Wouldn't Be A Man' has just been recorded by Josh Turner whose two most recent singles were No 1 in the US.
Rory and I worked on the Lion of Partry tribute to Fr Horan, first by email and then through Skype as this veteran Nashville songwriter took me patiently through the jumps in what is a very simple song with a deep meaning.
Another talented man who helped was Derry-born Dennis McCalmont, who has been based in Ballina for many years and is well-known on the music scene in these parts. As I drafted songs I took them to Dennis and he helped enormously in polishing them and making suggestions: he never complained at having to deal with a raw beginner. The result hopefully you will like. See Dennis McCalmont's website also through these pages. www.breakingtunes/dennismccalmont
Another who helped is my first cousin in Kent, Tom Devere, who is a member of the Thanet Male Voice Choir: he has been writing poems and songs for many years and over a glass of wine one lovely early August evening in Broadstairs we rattled out the words of Mover of Mountains. Thanks Tom.
Songs Dennis/Rory and I have coalesced on include Help Somebody, James House Rock, The Mayo Anthem, Foggy Boggy Hill, Money Money Song, Sydney Song, Wing and a Prayer Song, Lion of Partry, and Mover of Mountains. Old favourites such as Christy Moore's Airport song, Totus Tuus, Lady of Knock, Danny Boy, Moonlight in Mayo, etc. also feature in the show.
Meanwhile, Tommy Marren of Mid West Radio, who is both Director and Narrator and who co-penned this special adaptation with me, was also writing some wonderful numbers which feature in the show and which are listed in Tommy's bio on this site. Lavinia Gilmartin was one of the first to come on board as a very talented Musical Director with a string of accomplishments to her name, and a massive number of young singers whom she has trained and nurtured and instilled great self-belief in….and won many international awards with. She has done much to improve our lyrics musically! Of course, both Tommy and Lavinia have been long-term supporters of the Hospice movement.
Let me also say I am full of admiration for the cast, the stage crew, set designers, stage managers, costume department, everyone and anyone who have worked so hard from the beginning of September right through to the end of November, two, three, four and five nights a week in some cases, to bring this show to reality. Their input has been amazing they are so enthusiastic and talented, and they are doing it all for free – for the Hospice. Take a big bow one and all!
Cynthia Clampett, the CEO of Mayo Roscommon Hospice, was of course the brave woman who accepted my challenge and together we set out to put a production team together. Backers were approached, the Management and Staff of Ireland West Airport Knock, under Liam Scollan and Joe Gilmore, have been brilliant, and everyone called upon along the way has been utterly amazing and motivational.
Thanks to all of you, wherever you are, who have played a role in making this wonderful and, hopefully, enjoyable and inspiring musical possible. My hat is off to you all.
Spread the word, tell your friends about the show, give them the details of this site: we need to get all the tickets sold so that the wonderful Hospice Foundation can not only continue its wonderful service but fulfil its lofty plans in such trying times.
Finally, to my wife Mary, thanks for all your love and support; there have been wonderful times and tough times on this journey into the unknown for me, but your backing, your advice and all those wonderful cups of coffee and encouraging words have kept the show on the road! You have been truly inspirational.