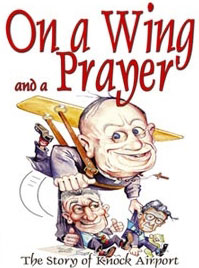 The musical On A Wing and a Prayer is built on the book of the same name, written by Terry Reilly and published by Yew Plain Publishing in 2006.
It tells the full history of a much ridiculed airport in the West of Ireland built in the 1980s by 'a simple, country priest in a hurry'.
Discover how Taoiseach Charlie Haughey gave the go-ahead for the airport, the role played by campaigning journalist John Healy, and the many government U-turns in a politically volatile period.
The book reveals the fund-raising heroics and adventures of Monsignor James Horan and his team, and contains tales of money overflowing from tea chests, clandestine raffles, and generous donations.
Learn how the coalition government of the 1980s was out-manoeuvred, and how Christy Moore came to write a song about the 'airport up in Knock'.
Travel from Knock to Rome and relive the memories of a great occasion in 1985, and track the unfolding controversy of how a director was removed.
All the central characters in a wonderful odyssey give their retrospective views and opinions, including politicians like Garret FitzGerald, Albert Reynolds, Barry Desmond, Paddy O'Toole and Padraig Flynn, and Ryanair chief executive Michael O'Leary.
The author draws on hundreds of contemporary sources, so you can read about the Time Magazine story headlined 'Knock, Knock, What's There?' (Answer: 'A $32 million airport, that's what, for a village of 400') and the concerns raised about the airport by the Mayo Branch of the Campaign for Nuclear Disarmament.
One of the great stories of modern Ireland, told in book form for the very first time.