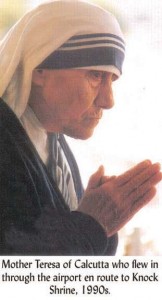 Ireland West Airport Knock (formerly known as Knock Airport) is one of the great against-the-odds success stories of modern Ireland.
The idea of an airport for the Knock region was mooted as early as 1935, and Father James Horan was part of a delegation from the Knock Development Association which, during the 1960s, sought in vain an airstrip to cater for pilgrims.
When the project got going in the wake of Pope John Paul II's visit to Knock in 1979, it was much derided, called a 'white elephant' and was the subject of much political controversy.
The proposal got government backing in 1980, and the first sod was cut by Minister for Transport Albert Reynolds the following year, but many obstacles had to be overcome before the first commercial flights took off in 1985.
The airport was officially opened in May 1986, months before Monsignor Horan, the airport's driving force, died in Lourdes. Within two years, annual passengers numbers had exceeded 100,000, and that figure had doubled by the turn of the century.
The first snow and ski charters took off from the airport in 2004, and the airport reached the milestone of over half a million annual passengers the following year.
By the time of its 20th anniversary, the airport was serving 25 destinations in the UK and Europe, and was re-branded as Ireland West Airport Knock.
Major redevelopment began at the airport in 2007, and a new expanded retail area opened the following year. By 2008, work commenced on a new landing system and runway improvements, and passenger numbers had reached over 629,000.