Stage comeback for Cynthia Clampett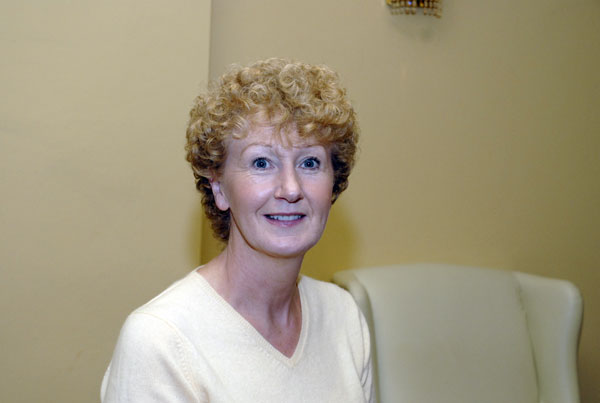 One of the principal roles in the musical On a Wing and a Prayer will herald a welcome return to the stage by Leitrim-born Cynthia Clampett, who will play Dame Judy Coyne.
Mrs Coyne and her husband Judge Liam Coyne were instrumental in reviving interest in Knock Shrine. She founded the handmaids and stewards, provided facilities for the sick, and had a broad vision for the development of the Shrine. She was also responsible for commissioning the statues at the apparition gable in Knock. She died in 2002.
It is appropriate that Cynthia Clampett is playing the role for she is CEO of Mayo Roscommon Hospice Foundation which is the beneficiary of the premiere performances of the Musical in the Royal Theatre, Castlebar, from November 25 to 27. The show has been described as the hottest ticket in the west this year.
Cynthia has been involved in amateur dramatics and musicals for many years.  From her early days in school musicals to a role in the stage show Money Money Money in the Tops of the Towns performing in the John Player Theatre, Dublin.  She performed with the Roscommon Drama Group in the acclaimed historical tribute Voices from a Famished Land to mark the 150 anniversary of the Great Famine, which was performed for President Mary McAleese and staged in theatres throughout Ireland and also in America and Scotland.
Cynthia spent a number of years with The Glenamaddy Players and took leading roles and won best actress awards in plays like; John McGahern's The Power of Darkness, J.B. Keane's The Field, Brian Friel's The Communication Cord, and Patricia Burke Brogan's Eclipsed, the story of the Magdalene Laundries.
"I am delighted to be chosen to play the role of Mrs Coyne in On a Wing and A Prayer.  I have heard a great deal about the wonderful work done by this impressive lady over the years and I recently read her very engaging autobiography, Providence My Guide. She was noted for her enormous drive, determination and dedication.  Mrs. Coyne was as passionate about promoting and developing Knock as an International Shrine as I am about promoting and developing Hospice and Palliative Care Services so it is a great honour for me to play her part," said Cynthia