Monsignor Horan to make stage come-back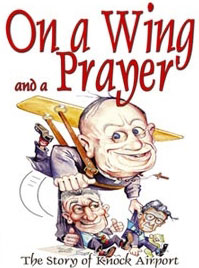 The story of how a west of Ireland priest convinced the Irish government to build an airport in the middle of a disadvantaged, depopulated region in East Mayo when the country was in dire financial straits is to be retold later this year when 'On A Wing and a Prayer-The Musical' takes to the stage for its premiere at the Royal Theatre, Castlebar, Co Mayo.
Author Terry Reilly, who wrote the best-selling book On A Wing and a Prayer, has adapted the work in association with Tommy Marren for a stage production that will bring to life the many herculean undertakings and amazing achievements of Monsignor James Horan, parish priest of Knock, told in word and song.
Proceeds from the November shows will go to the Mayo/Roscommon Hospice which must raise in excess of 1 million euro each year through donations and fundraising efforts to maintain its palliative care service in the two counties.
Cynthia Clampett, Chief Executive of Mayo/Roscommon Hospice Foundation,
based at Knock, said the Palliative Care Service in Mayo and Roscommon was heavily dependent on voluntary funding.
"Unfortunately, the economic downturn has impacted severely on fundraising and as the HSE continue to cut back on services the Palliative Care Teams are calling on the Foundation more and more to meet the increasing needs of patients and their families.  Providentially, Terry Reilly has generously offered the proceeds from the first performances of his novel and entertaining musical and it will now be a case of all systems go to ensure its success."
The Foundation's Palliative Care Teams cater for patients with cancer and other life limiting illness such as Motor Neurone, Muscular Dystrophy, MS and end-stage dementia, heart failure, etc.  The service is available for patients in their own homes and in hospitals and nursing homes throughout the two counties, with comfort, dignity and respect at its core.
The number of patients, both adults and children, being referred to the Service has increased annually since 1992. In 2009 there were 565 patients cared for by the Palliative Home Care Teams alone, in Mayo 363 and in Roscommon 202.
The musical traces the career of Monsignor Horan (born 1911-died 1986) whose life was spent addressing the spiritual and temporal needs of his flock. He got houses fixed, roads repaired, forests planted, challenged the authorities, and even built a ballroom of romance to which Old Nick was reputed to have paid a visit- without paying the admission fee!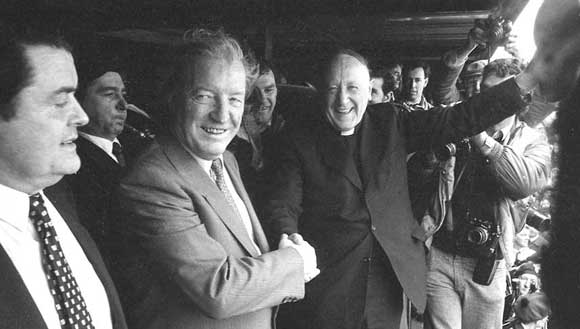 Monsignor Horan transformed Knock Shrine into a major pilgrimage attraction by building up a range of amenities and erecting a major Basilica, and he was instrumental in bringing, in 1979, Pope Paul 2 to mark the Centenary of the Apparition.
His last great fight, his biggest and most controversial campaign by far, was when he started, at the age of 70, to build an international airport in 1981 on what was described as 'a foggy, boggy hill'. His raison detre for the airport was to provide badly needed infrastructure for an impoverished, neglected region. Initially Government blessed his enterprise, but then did a series of U-turns as the tide of Dublin 4 opinion turned, forcing the withdrawal of Exchequer support and leaving an ageing a parish priest to raise many millions to finish his final project.
He succeeded in opening his dream airport in 1986, but the effort hastened his demise and he passed away in Lourdes a few months later. Ironically, his coffin was the first into Knock Airport as thousands flocked to pay homage to their hero. Of course, his vision, his dream, succeeded as he said it would. In the interim millions of people have used it and enjoyed it, with countless jobs being created in an area once known as the Black Triangle in East Mayo.
On A Wing and a Prayer- The Musical is a tribute to the heroic endeavour
of an old man in a hurry. It also heralds the 100th anniversary of his birth to be celebrated in May 2011.
Said Terry Reilly: "By any measure, the life of Monsignor Horan and his commitment to his people and the region would be hard to surpass. It had everything, concern for people, enterprise, colour, humour, pathos, immense energy, unique vision, victory over adversity, and much more. The objective of the musical is to transmit this wonderful Horan package to the stage in an entertaining, uplifting manner. The hope is that people will enjoy a really good night out, full of nostalgia and inspiration. Some of the Monsignor's favourite songs will be featured together with some new ones specially written for the occasion.
."Talented people from the region will take to the stage and bring Horan's amazing work to life again in what we want to be a memorably colourful production, and all in aid of a great cause within our community," he said.
The promoters have expressed thanks to Ireland West Airport Knock for ongoing help and encouragement in bringing the musical to the stage, and said Monsignor Horan would be most pleased to see that the Airport now employ on average 100 people and was having such a significant impact on the region.
The promoters added they were very fortunate to have such a wonderful theatre at their disposal and thanked Pat Jennings of the Royal for his co-operation, help and advice which was much appreciated.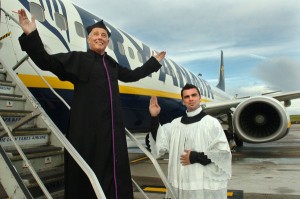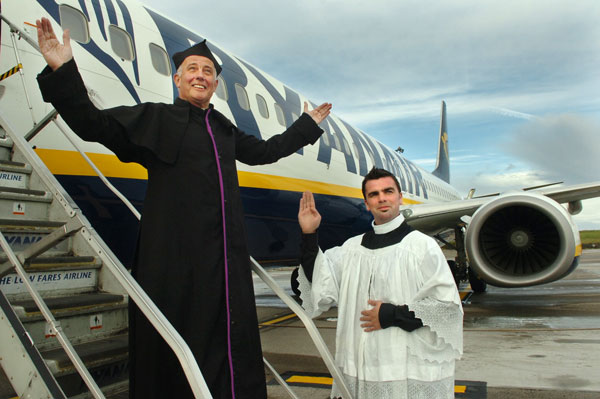 Auditions will be held over the next few months when the best acting/singing and back-stage talent from the region will be sought. Look out for further details shortly in local press, or on www.hospice.ie or by contacting the Foundation's office at 0035394 9388666; or www.terry-reilly.com
*On A Wing and a Prayer- The Musical will be performed at the Royal Theatre, Castlebar, www.theroyal.ie from November 25 to 27 next.