Joe Kennedy Patron-in-Chief On A Wing and a Prayer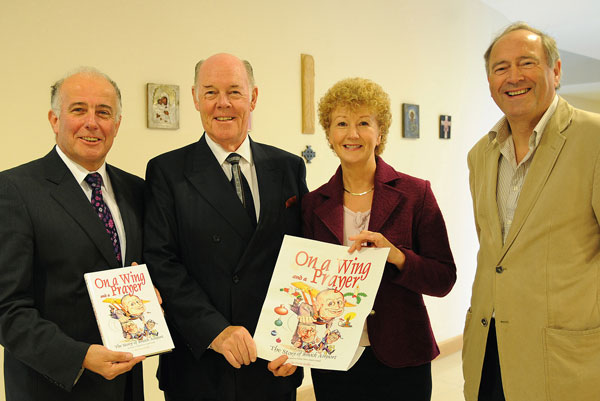 Pictured are Ollie Rouse who plays the role of the older Monsignor Horan in the musical, Mayo Person of the Year Joe Kennedy; Cynthia Clampett, Director Mayo Roscommon Hospice, and Terry Reilly, creator of the musical. Pic (c) David Farrell davidfarrellphotography@gmail.com
The Musical On a Wing and a Prayer has received a great boost from Mayo Person of the Year Joe Kennedy who has agreed to become the production's Patron-in-Chief for three premiere performances in aid of Mayo Roscommon Hospice.
The musical, adapted by Terry Reilly and Tommy Marren of Mid West Radio from Terry Reilly's book On a Wing and a Prayer, will go on stage in the Royal Theatre Castlebar from November 25 to 27 inclusive. It tells the story of the life and times of Monsignor James Horan, culminating with the building of Knock Airport in the 1980s.
Welcoming the support of Mr Kennedy, Cynthia Clampett of the Hospice Foundation, said he had always been a great supporter of Hospice and his backing for the stage musical was really appreciated. "We need all the support we can get, and once again Joe Kennedy has responded and set an example which other patrons will hopefully emulate. We are really encouraged by his support, " she said.
The musical's creator Terry Reilly said it was fitting that Joe Kennedy had come on board in such a supportive way as he had followed Monsignor Horan both as chairman of the Airport Board and as Mayo Person of the Year. "His generous support and goodwill are truly valued," he said.
Mr Kennedy said he was very happy to help out in such a noble cause. "Monsignor Horan was a wonderful man and I am privileged to have walked in his footsteps. The airport is a wonderful asset for the region, and can do much to release the great potential that exists in the West," he said.
Rehearsals are now taking place under director Tommy Marren and Musical Director Lavinia Gilmartin, with all those taking part giving their services free of charge.
Tickets, which are selling fast and are likely to be completely sold out in the next few weeks, are available from Mayo Roscommon Hospice at Knock, Ireland West Airport Knock, The Royal Theatre, Ticketmaster and local outlets.